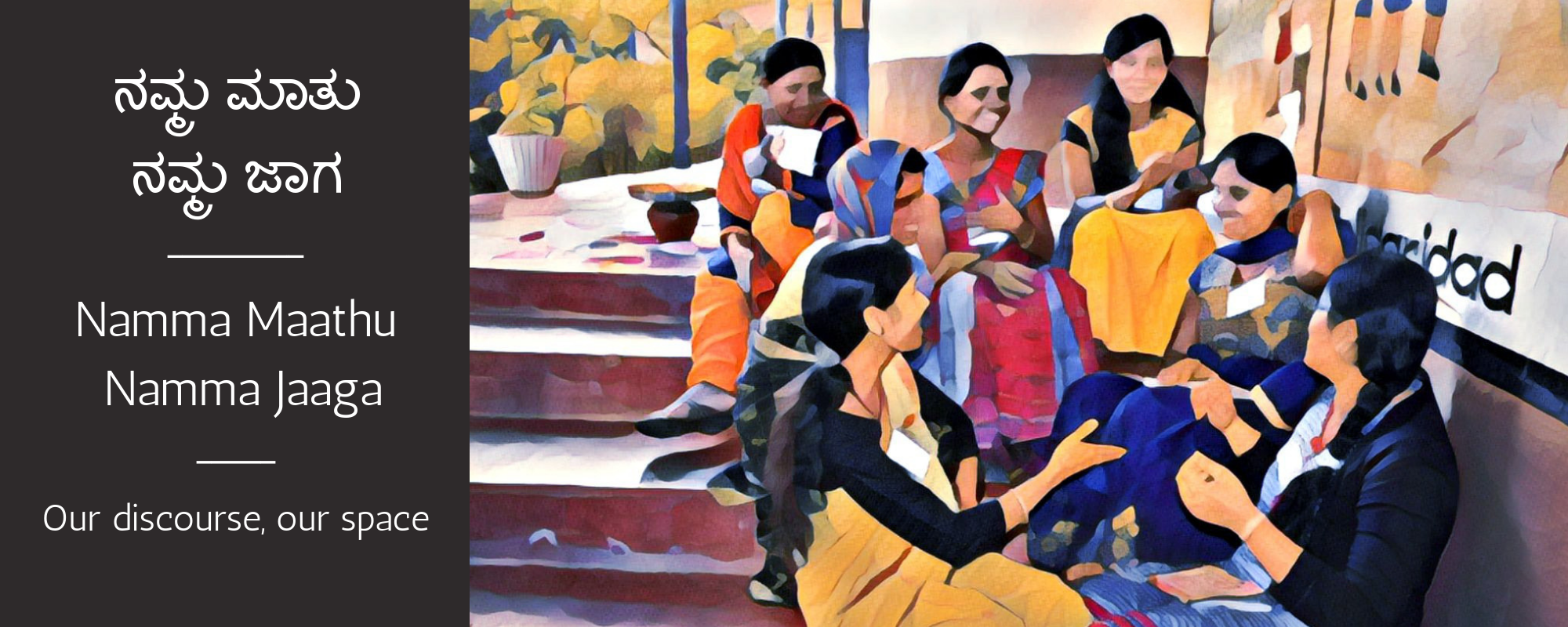 Namma Maathu Namma Jaaga
For too long, women have been at the receiving end of public and private violence. Over the years, the laws and institutions that exist to tackle these issues have proved ineffective. This along with the rigid patriarchy, has resulted in women being denied their right to voice their problems and find an appropriate solution that can help them transform their situation.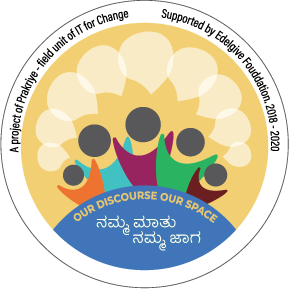 To address this concern, in March 2018, IT for Change launched the field project 'Namma Maathu, Namma Jaaga', which when translated from Kannada, means 'Our discourse, Our space'. The project introduces various intervention mechanisms through a multi-point support system using information and communication technologies in 25 villages of H.D. Kote in Mysore district.
This program includes building a cadre of 75 para counselors (comprising 34 Anganwadi workers, 26 ASHAs, 12 active members of women's collectives, and three informediaries), with the skills to provide psycho-social support and help with legal aid for women and girl victims of violence.
Thirty seven help desks will serve as 'safe spaces' for needs-based, women-centric counseling and pyscho-social support services provided by para counselors. They will periodically convene learning dialogues with 125 women's collectives, 500 adolescent boys and 500 adolescent girls to build their perspectives on women's rights and dignity.
We will reach out to a total of 22,000 females and 22,000 males through these villages out of which 43 percent are from marginalized communities. In every, village we plan to reach out to at least five different women's collectives, while ensuring that there is no repetition of members in these collectives.
Active involvement of seven panchayats, 31 male elected reps and 36 female elected representatives. The project will set up 'men for model village groups' in all 25 villages to have the buy-in of male community members and elected male representatives in the panchayat for local action against gender-based violence.
The project will critically interrogate gender perspectives of community members through participatory media (the IVR serial Anjali Akka and community video screenings), one public exhibition led by adolescent girls and boys, and seven participatory safety audits, to create and strengthen locally-grounded areas of women's rights and gender equality.
The project will span over two years, from March 2018 to February 2020. The Edelgive Foundation supports its work.
Read the project summary here.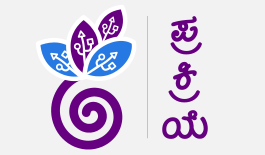 Prakriye– Centre for Community Informatics and Development
Most community-based ICTs for Development (ICTD) projects are implants from the outside and aren't driven by grass-roots NGOs or community-based organisations, such as those of marginalized women's collectives.
IT for Change's field center, Prakriye (Centre for Community Informatics and Development), takes a bottom up approach by putting these development actors in the driver's seat of exploring new techno-social possibilities that strengthen and invigorate development, and further women's political empowerment. Prakriye's quest is to develop contextually-appropriate techno-social systems that can strengthen marginalized women's engagement with local governance institutions and systems, from a rights and citizenship-based perspective. Prakriye is based in Mysuru and is the operational center for Namma Maathu, Namma Jaaga.
Read more about Prarkiye here.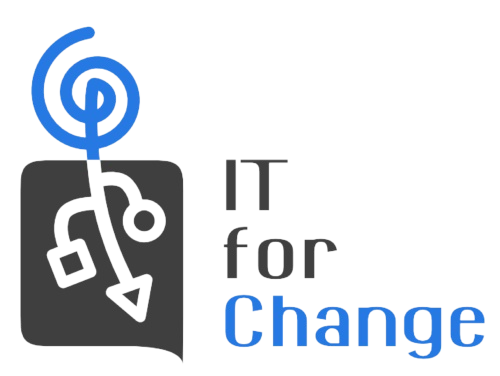 An NGO based in Bengaluru, India, IT for Change aims for a society in which digital technologies contribute to human rights, social justice and equity. Most mainstream approaches to digital technologies for development are either techno-utopic or promote a market-fundamentalist approach, often both together. A digital makeover of economies and societies has become a convenient opportunity for wholesale corporatization of social systems, displacing the cornerstone ethics of democratic participation, commons, social justice and gender equality from development discourse.
At IT for Change, we believe that progressive actors from all sectors must come together to influence the techno-social changes that are redefining our societies. They need to begin with framing the discourse, advocate for appropriate policies, and demonstrate working models on the ground. Even as our own strategies span these three areas, we also seek to build bridges across different sectors, in the global struggle towards an equitable digital society.
Our work in the areas of education, gender, governance, community informatics and internet/digital policies pushes the boundaries of existing vocabulary and practice, exploring new development and social change frameworks. Network building is key to our work.
IT for Change is in Special Consultative Status with the Economic and Social Council of the United Nations.
Read more about IT for Change here.

The Edelgive Foundation generously supports Namma Maathu, Namma Jaaga's work. The Foundation, set up in 2008, is the philanthropic arm of the Edelweiss Group.
Through the last decade, EdelGive, has primarily been a grant making organization, supporting small and mid-sized NGOs across the country. Additionally, it has become the connecting platform between grantmakers/donors and credible NGOs across the country. Their endeavour is to build sustainable institutions and organizations that promote societal growth and innovation, and advance the common good by bringing the skills, resources and talents of the for-profit world to the not-for-profit world.
Read more about the Edelgive Foundation here.